Vegetable Basting Sauce, Give your veggies a boost
Basting sauces give vegetables a delicious caramelized crust, while they remain tender and moist on the inside. Take care with any basting sauce that contains sugar (such as barbecue sauce, teriyaki sauce, hoisin sauce, or glazes) since the sugar burns more easily. Keep the fire medium-hot to low, keep the cover over the grill, and check frequently to avoid scorching the food.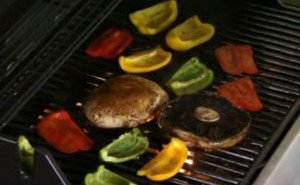 1/4 cup hoisin sauce
1 tablespoon soy sauce
1 teaspoon dark Asian sesame oil
2 tablespoons peanut oil
1 heaping teaspoon minced fresh ginger
1 garlic clove, finely minced
Combine all ingredients, mixing well. Baste on vegetables as they grill, taking care not to burn.